SSF CFC #: 10603
SSF CFC #: 10603
We hope you consider choosing to contribute to the Sjögren's Syndrome Foundation (SSF) through the Combined Federal Campaign. You can also recognize the SSF with our EIN #: 11-2779073.
If you have any questions, please contact the SSF at (301) 530-4420 or info@sjogrens.org.
Team Sjögren's Goes TURKEY!
RESEARCH UPDATE: New Breakthrough from SSF Grantees
"Findings yield new clues to puzzling autoimmune disease"
Oklahoma Medical Research Foundation (OMRF) scientist and former SSF research grant recipient, Kathy Sivils, Ph.D., and her colleagues have identified a strong association between a variant in a gene called OAS1 and susceptibility to Sjögren's. This variant may provide valuable insight into the genetic basis of Sjögren's, as well as other autoimmune conditions with similar triggers.
Click here to read more.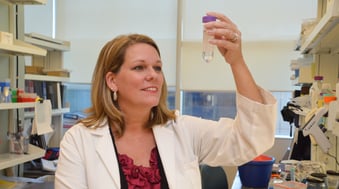 Sjögren's Clinical Trials
"Every day research is being conducted to unveil new medications, therapies and diagnostic tools for Sjögren's and its symptoms. By participating in a clinical trial, you will be helping to potentially uncover breakthroughs that will help Sjögren's patients worldwide." Steven Taylor, SSF CEO
Thank you for your interest in learning more about Sjögren's clinical trials. We encourage you to learn more about what is involved in a clinical trial and ask as many questions as you want before entering one.
Clinical trials are designed to add to medical knowledge and most importantly, the results of these trials can make a difference in the care and treatment of Sjögren's patients.
The SSF is fully committed to the development of new therapeutics that will treat the entire disease, not just one symptom. The following links will provide you additional knowledge about clinical trials, what's involved and what to expect:
• All About Clinical Trials and Sjögren's
• What to know about Clinical Trials and Sjögren's
• Understanding Primary vs. Secondary Sjögren's
Thank you for your interest in learning more and we encourage you to visit our current listing of clinical trial locations: