SSF: Rheumatology Clinical Practice Guidelines for Sjögren's Published
The SSF is excited to announce the publication of the first U.S. Rheumatology Clinical Practice Guidelines for Sjögren's.
Published in Arthritis Care and Research, these rheumatology guidelines were designed to improve quality and consistency of care for Sjögren's patients by offering clinicians recommendations for disease management. Among the recommendations, the guidelines address issues such as the use of biologic agents, management of fatigue, and inflammatory musculoskeletal pain in systemic Sjögren's. Click here to read more.
View Guidelines Published in the Rheumatic Diseases Clinics of North America
2016 SSF Conference Audio CDs Available!
Did you miss our 2016 National Patient Conference?
The most popular talks from the 2016 SSF Conference are available for purchase as audio CDs. Each talk is 30-40 minutes long and comes with the handouts used by the presenter so you can follow along with the talk.


Presentation topics include:


• Sjögren's Overview

• Oral Manifestations of Sjögren's

• Dry Skin and Dermatological Issues

• An Inside Look at Sjögren's & Gluten-Free Diets

• Ocular Manifestations of Sjögren's

• Sjögren's - Where Are We in Drug Development?

• Gynecological Issues with Sjögren's

• Examining Sjögren's - Case by Case

• Fatigue and Sjögren's

Member Price: $18
Non-Member Price: $30
This is Sjögren's!
Sjögren's is often referred to as an invisible disease, one that, while patients may experience severe discomfort, people don't physically see as debilitating. This can be extremely isolating for patients and also leads to the great misunderstanding about the seriousness of the disease.
The SSF wants to help close the gap between the reality of living with Sjögren's and the perception that many non-patients may have with our This is Sjögren's! April campaign.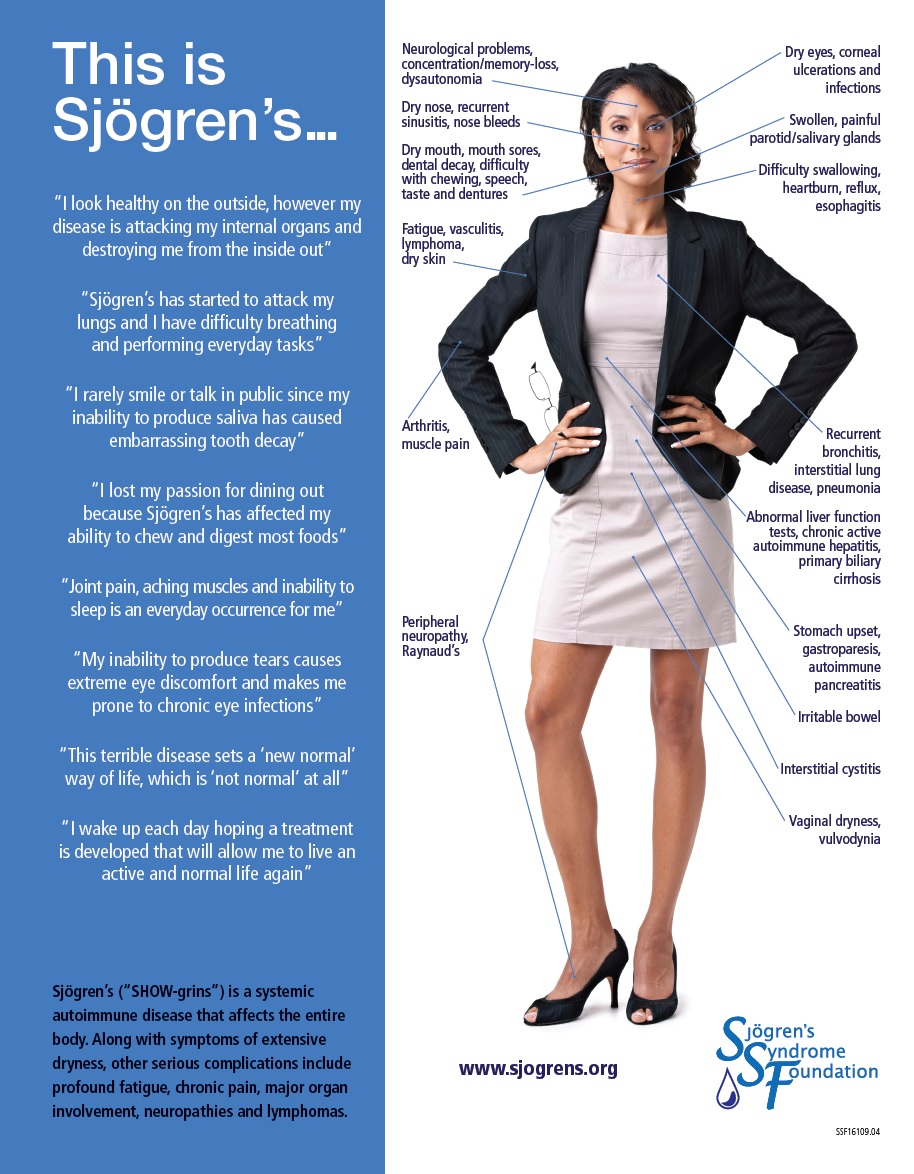 SSF Releases Clinical Practice Guidelines for Ocular Management in Sjögren's
SSF Clinical Practice Guideline's
Overview
In 2009, the Sjögren's Syndrome Foundation launched an initiative to develop Clinical Practice Guidelines for Sjögren's, which aim to:
Improve the quality of care for Sjögren's patients by developing guidelines for the assessment and management of a variety of disease manifestations.

Create documents to delineate Sjögren's guidelines for U.S. clinicians.

Obtain broad acceptance of guidelines from key stakeholders, including professional organizations and government agencies.



Phase 1
Completed in 2015, Phase 1 of this initiative resulted in the development of the first U.S. guidelines for the management and treatment of systemic and ocular manifestations of Sjögren's as well as guidance for caries prevention in Sjögren's.
View and download the guidelines created through Phase 1 below:


The SSF thanks all who contributed to the creation of the Phase 1 guidelines. A full list of contributors is available online.
Phase 2
The second phase of this initiative will significantly increase the guidance offered on the management and treatment of Sjögren's. The following topics will be addressed in Phase 2:
Systemic Manifestations in Sjögren's
(Pumonary; Peripheral nervous system (PNS); Central nervous system (CNS); Lymphoma and other blood cancers; Vasculitis)
Oral Manifestations in Sjögren's
(Muscosal management and symptom relief; Use of secretagogues; Caries management and restoration)
Ocular Manifestations in Sjögren's
(Update and expand on the ocular guidelines developed in Phase 1 and TFOS DEWS II Report)
Cross-cutting Topics
(Parotid and lacrimal gland swelling)
Developing Guidelines
The SSF consulted with other professional organizations, including the American College of Rheumatology, American Dental Association, American Academy of Neurology, consultants from the American Society of Clinical Oncology and the Grading of Recommendations Assessment, Development and Evaluation (GRADE) methodology system to devise a transparent and rigorous guidelines development process. This process informed all aspects of guideline development, which includes drafting clinical questions, pre-selecting parameters for acceptable studies, literature searches, data extraction and using a Delphi-type approach to gain consensus for recommendations. For consensus, the SSF created Consensus Expert Panels, comprised of at least 30 professional experts and patients, who reviewed, voted and provided input on recommendations. A minimum of 75% consensus is needed in this step of the process.
JADA Exclusive: SSF Clinical Practice Guidelines for Oral Management of Sjögren's
Dr. Michael Glick, editor of The Journal of the American Dental Association, talks with Dr. Domenick T. Zero about the SSF clinical practice guidelines (CPG) for oral management of Sjögren's disease featured in April JADA.
More information about the printed version and the release of these guidelines will be published in the Summer 2016 issue of The Moisture Seekers, SSF's patient newsletter for members.
SSF CPG- In 2010 the SSF initiated the development of Sjögren's CPG recommendations for medical practitioners in three categories: rheumatology, oral medicine/dentistry, and eye care. These guidelines will help to standardize patient care by giving physicians a roadmap of how to treat and manage their Sjögren's patients.
The SSF Sjögren's CPG initiative is funded fully by the Sjögren's Syndrome Foundation with no corporate or pharmaceutical industry support. The SSF would like to thank our committee chairmen & members of the oral working group for volunteering their time and expertise to develop these guidelines. We would also like to thank all SSF members and our generous supporters for helping to make the dream of Sjögren's CPG start to become a reality!