This is Sjögren's!
Sjögren's is often referred to as an invisible disease, one that, while patients may experience severe discomfort, people don't physically see as debilitating. This can be extremely isolating for patients and also leads to the great misunderstanding about the seriousness of the disease.
The SSF wants to help close the gap between the reality of living with Sjögren's and the perception that many non-patients may have with our This is Sjögren's! April campaign.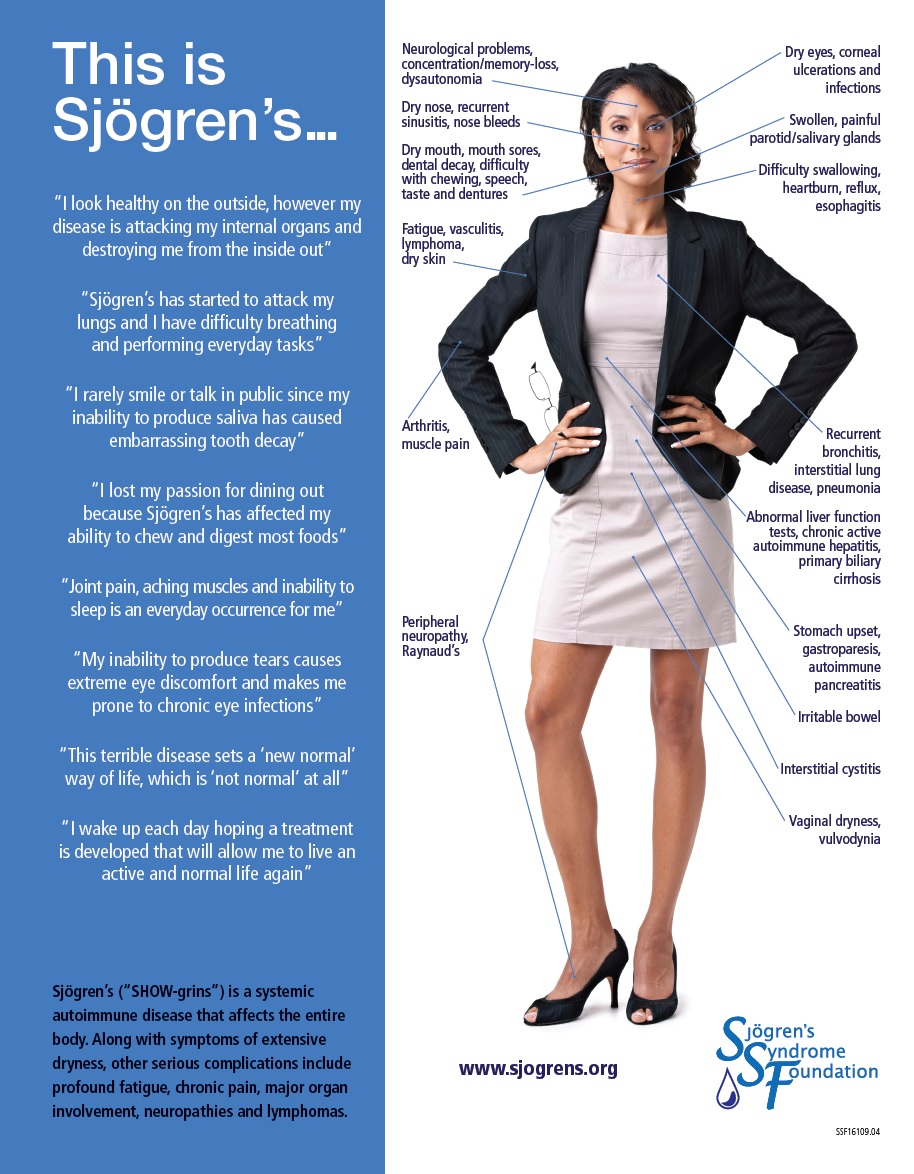 JADA Exclusive: SSF Clinical Practice Guidelines for Oral Management of Sjögren's
Dr. Michael Glick, editor of The Journal of the American Dental Association, talks with Dr. Domenick T. Zero about the SSF clinical practice guidelines (CPG) for oral management of Sjögren's disease featured in April JADA.
More information about the printed version and the release of these guidelines will be published in the Summer 2016 issue of The Moisture Seekers, SSF's patient newsletter for members.
SSF CPG- In 2010 the SSF initiated the development of Sjögren's CPG recommendations for medical practitioners in three categories: rheumatology, oral medicine/dentistry, and eye care. These guidelines will help to standardize patient care by giving physicians a roadmap of how to treat and manage their Sjögren's patients.
The SSF Sjögren's CPG initiative is funded fully by the Sjögren's Syndrome Foundation with no corporate or pharmaceutical industry support. The SSF would like to thank our committee chairmen & members of the oral working group for volunteering their time and expertise to develop these guidelines. We would also like to thank all SSF members and our generous supporters for helping to make the dream of Sjögren's CPG start to become a reality!
NEW: Chronic Pain Resource Website
Hope Springs Village


An estimated 100 million Americans live in chronic pain – often feeling isolated, powerless and looking for support.


A new online community, Hope Springs Village,

launched by the JSA Chronic Disease Foundation seeks to relieve those feelings and offer encouragement and a sense of belonging to people in pain and those who care for them.
Wake Up, Koala!
Wake Up, Koala! is a 2d puzzle game featuring a very sleepy Mama Koala who really needs to wake up. Wake Up, Koala! has been created in collaboration with the Sjögren's Foundation and undergraduate students at Bradley University.
Wake Up, Koala! is fun to play!
While it also shares the news about Sjögren's pronounced (SHOW-grins), an autoimmune disease in which the body attacks moisture producing glands. A patient often will have joint pain, chronic dry eyes and dry mouth. Sjögren'sI often makes a patient feel quite fatigued, just like Mama Koala.
Former SSF Research Grant Recipient receives a 5-year, $2.14 million grant to study Sjögren's!
Congratulations to former SSF Research Grant Recipient & Oklahoma Medical Research Foundation Scientist Dr. Umesh S. Deshmukh, on being awarded a 5-year, $2.14 million grant from the National Institute of Dental & Craniofacial Research to study Sjögren's!
In 2008 Dr. Deshmukh was awarded the SSF Innovative Concept Grant Winner, a 2-year research grant, when he was at the University of Virginia. The SSF research program is designed to reward exceptional research efforts & encourage investigators to continue their focus on Sjögren's throughout their career. SSF grants are funded by your generous contributions to the Foundation and, once again, this shows that your donations are having a direct impact on research and helping us to create a future filled with hope for all patients and their families!